News and Events
Latest News
Post Date: 14 September 2020
Classroom-Based Assessments - Updates 2020/21
Dates for completing Classroom-Based Assessments for second-years are now live.
This applies to CBA1 for the 2020/21 school year.

See page 3 for further details: here
https://ncca.ie/en/resources/revised-arrangements-for-the-completion-of-classroom-based-assessments-for-the-cohort-of-students-2018-2021
Webinar 2020 - The Research Rich Classroom
JCT Religious Education & Chester Beatty Library Event
The first collaboration between the JCT Religious Education team and the Chester Beatty Library took place on March 11th in the Chester Beatty Library, Dublin. The active workshop entitled "Sacred Texts and Sacred Objects" explicated the ways in which teachers can create inter-faith resources in the classroom using sacred texts.
The evening's facilitators Jenny Siung and Justyna Chmielewska of the Chester Beatty Library examined texts and artefacts using a tactile / kinaesthetic approach and also hosted a museum visit for the participating teachers from a variety of subject spaces. A thoroughly memorable evening ensued of insightful conversations and collaboration between all present, examining the use of sacred texts from how they were made to the variety of worldwide religions and cultures that constructed them.
Creating resource boxes for enquiry and explorative based learning was a highlight of the night enabling teachers to engage with the 3 new elements from the RE specification. We look forward to hosting many more evenings of this nature in the future.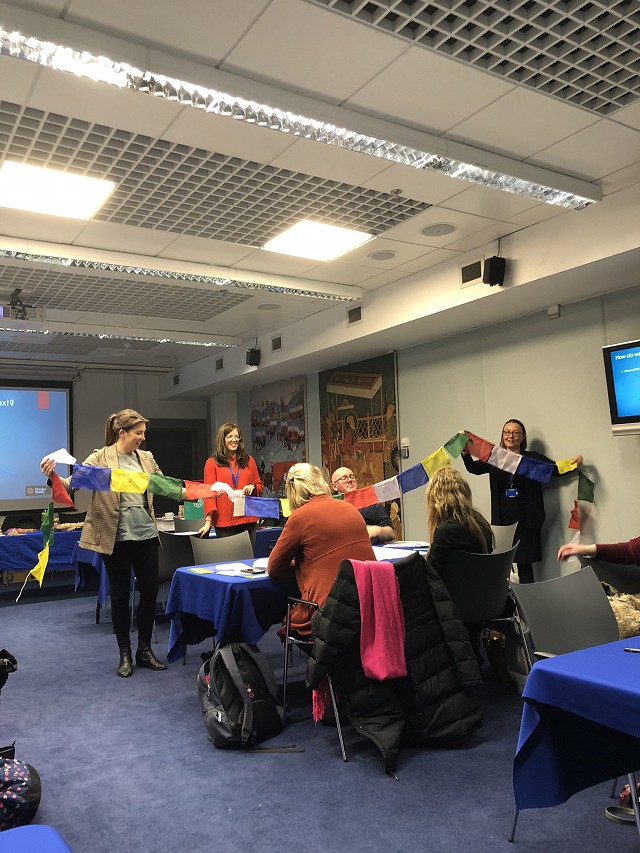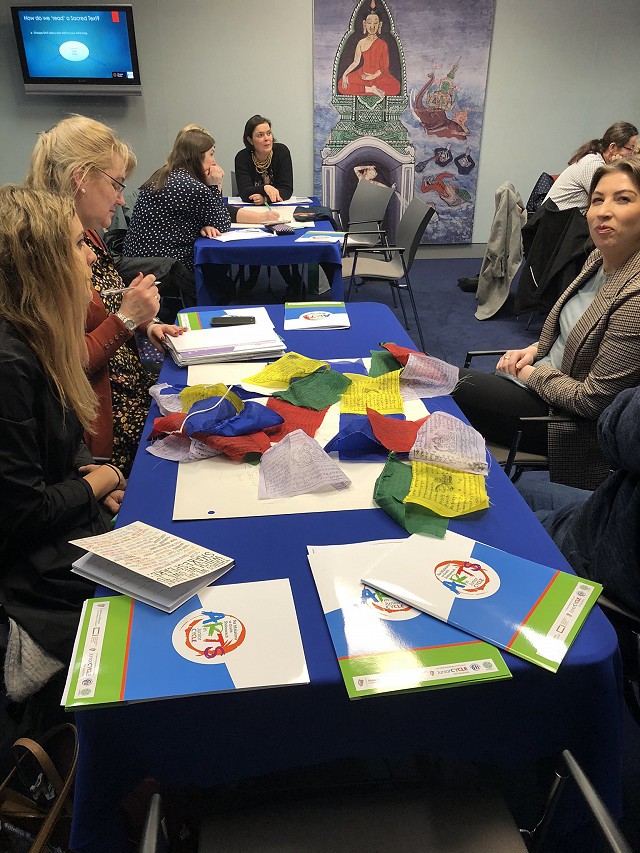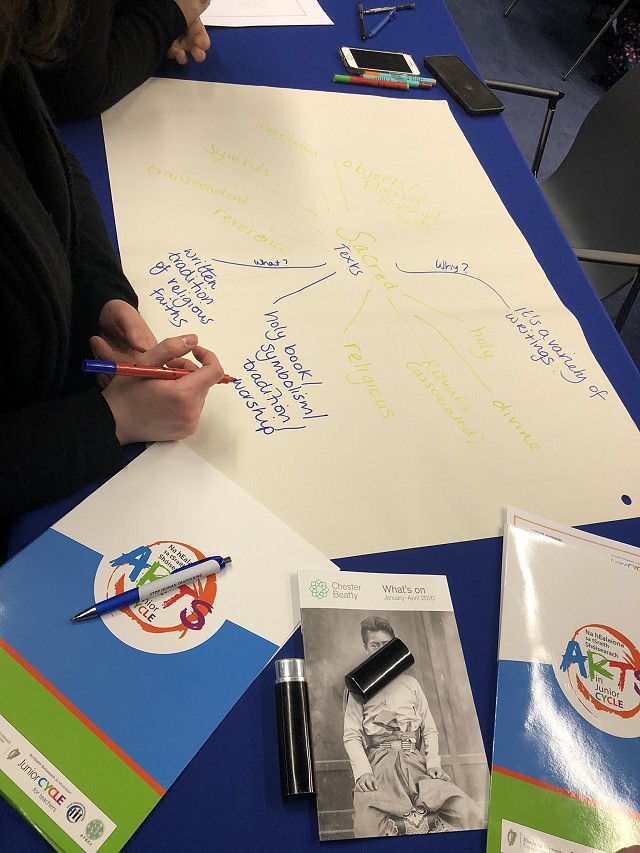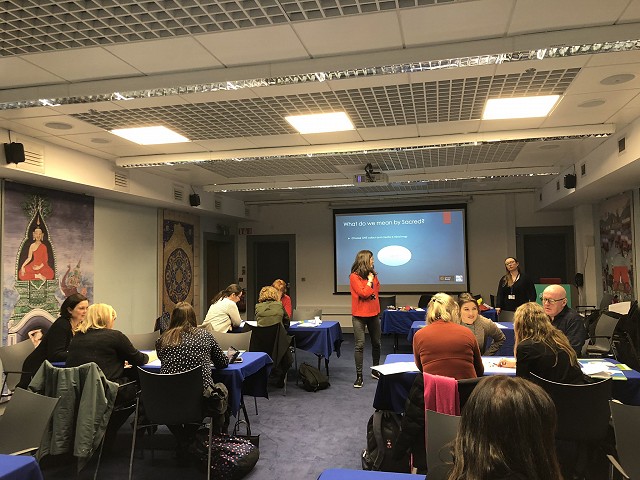 Religion Teachers' Association of Ireland National Conference
The JCT Religious Education team were delighted to attend and present a workshop at the Religion Teachers' Association of Ireland National Conference in the Hodson Bay Hotel, Athlone on Saturday 7th March. The active workshops focused on research in the Junior Cycle Religious Education Specification.
A thoroughly memorable day ensued of insightful collaborative conversations between all present sharing how research is organically coming to life in classrooms around the country. We extend our gratitude to the RTAI for their warm welcome and invitation to present at this event and as a team we look forward to engaging with them again in the future.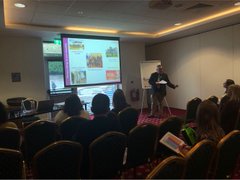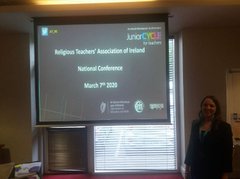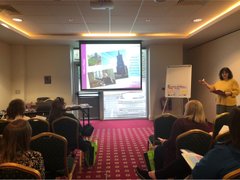 Post Date: 12 February 2020
Sacred Texts and Sacred Objects
The first RE Junior Cycle Arts collaboration takes place in March. We have worked with the Chester Beatty Library Education team to develop a workshop called 'Sacred Texts and Sacred Objects'. The workshop will be held in the Chester Beatty Library on Wednesday March 11th from 5-7pm and repeated in Athlone Education Centre on Wednesday March 25th from 5pm - 7pm. Registration is now open and places are filling fast and strictly limited. Registration details vary depending on the venue, please see the poster attached for details.
For regular update and information sign up here to the Arts in Junior Cycle Mailing List.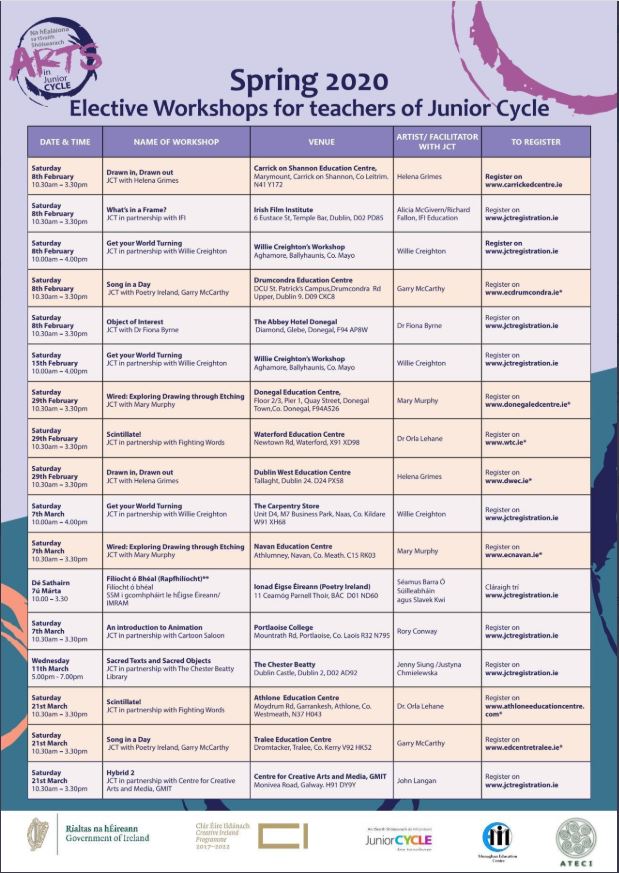 Post Date: 28 January 2020
Holocaust Memorial Day
The JCT Religious Education team attended the 'Holocaust Memorial Day' ceremony in the Mansion House, Dublin on the evening of Sunday, January 26th which also closely marks the 75th anniversary of the liberation of Auschwitz on January 27th, 1945. Organised by the Holocaust Education Trust Ireland, the President of Ireland Michael D. Higgins gave a captivating, yet cautionary speech noting the importance of our country's solidarity with the oppressed and the marginalised. The Chair of Holocaust Education Trust Ireland, Eibhlin Byrne, spoke of the importance "to educate generations now living, and those to come, about the inhumanity which man can inflict on man when all that is decent and all that is good is lost.'' The holocaust memorial exemplifies the importance of Religious Education within our schools in educating and fostering inclusivity among our students in a pluralist world.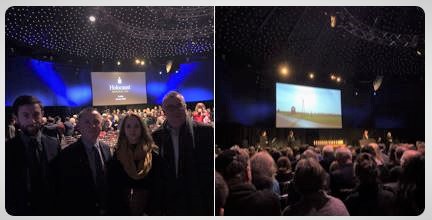 Post Date: 23 October 2019
Recent Religious Education team events
The JCT RE Team attended the European Forum for Teachers of Religious Education (EFTRE) Conference in DCU from August 28th- 31st. The conference was entitled 'Reconciling Realities in Religious Education' with approximately 60 delegates from 22 countries attending the event. As well as keynote speakers and workshop presentations the event included visits to the Chester Beatty Library, St. Patrick's Cathedral, two Romanian Orthodox parishes in Dublin, the Hugh Lane Gallery, The Sanctuary, the Jesuit Centre for Justice and Peace and the National Museum of Ireland, Collins Barracks, Dublin.
It was a unique opportunity for interbelief and ecumenical dialogue. Muslim educator Dr. Abdullah Trevathan gave one of the keynotes addresses to which the Roman Catholic Archbishop of Ireland Diarmuid Martin spoke afterwards. JCT RE team leader Dr. Ailís Travers spent an afternoon with delegates from a variety of countries in a Romanian Orthodox Church in Dublin which was followed by an address by Church of Ireland Archbishop Michael Jackson and conference dinner in Christchurch Cathedral.
The conference was a wonderful opportunity for the JCT team to reflect on a wealth of information and ideas that link to the Junior Cycle RE learning outcomes and explore possibilities for embedding the insights gained with teachers at future JCT RE days.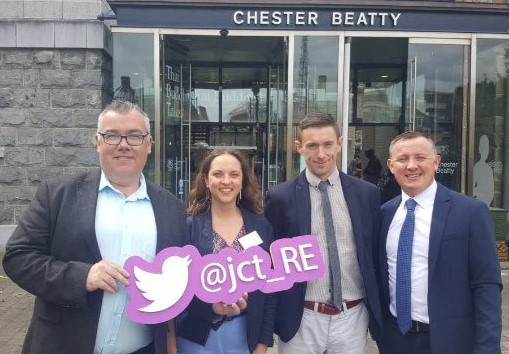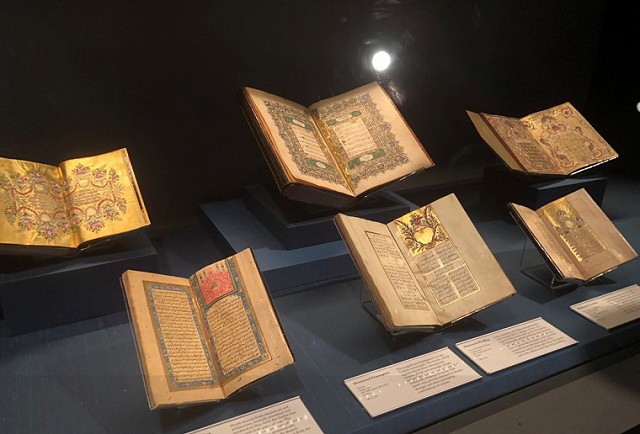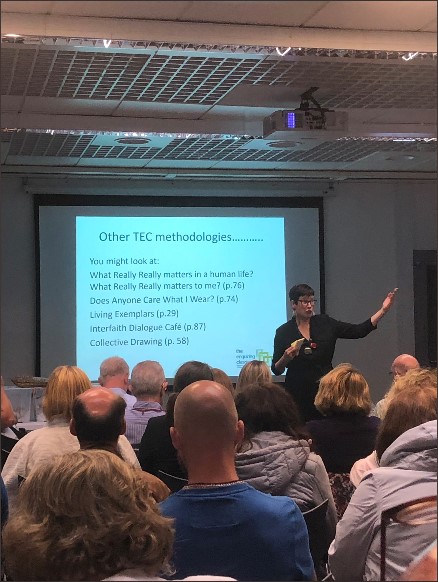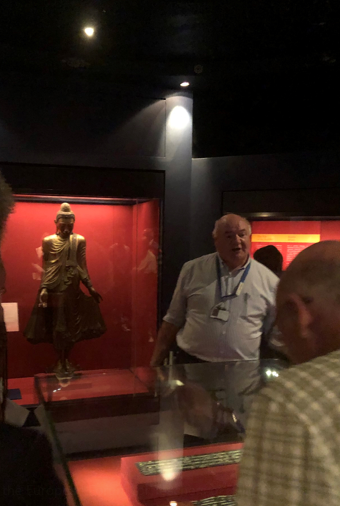 Symposium
Recently we hosted the Junior Cycle RE symposium in the Irish Centre for Religious Education.
To see the highlights click here
Webinar
On the 28th of March we held our first live webinar. It main focus was on planning.
To view a recording of it click here
Post Date: 01 January 2019
Welcome
The Religious Education section of the JCT.ie website gives you access to all the up to date information related to our subject including:
You can also view the specification and will find a link to the assessment guidelines in the Key Documents section of our website once they become available.
As more Religious Education subject resources are created, they will be uploaded to each section of the website.
Please keep up to date with all Religious Education developments by following our Twitter handle: @jct_re

Post Date: 01 February 2019
Join our mailing list
New EU rules surrounding Data Protection (GDPR) came into effect on the 25th May 2018. Because of this, Junior Cycle for Teachers (JCT) are required to ensure that all data held must be fairly obtained and processed. To this end we are now requesting that if you have not already joined our mailing list and wish to receive all updates pertaining to Junior Cycle Religious Education, you will need to re-subscribe to the mailing list using this link. We would like to reassure you that your details will be securely stored by JCT and will be used only for Junior Cycle activities and supports.
Religious Education Newsletters
Newsletter October 2020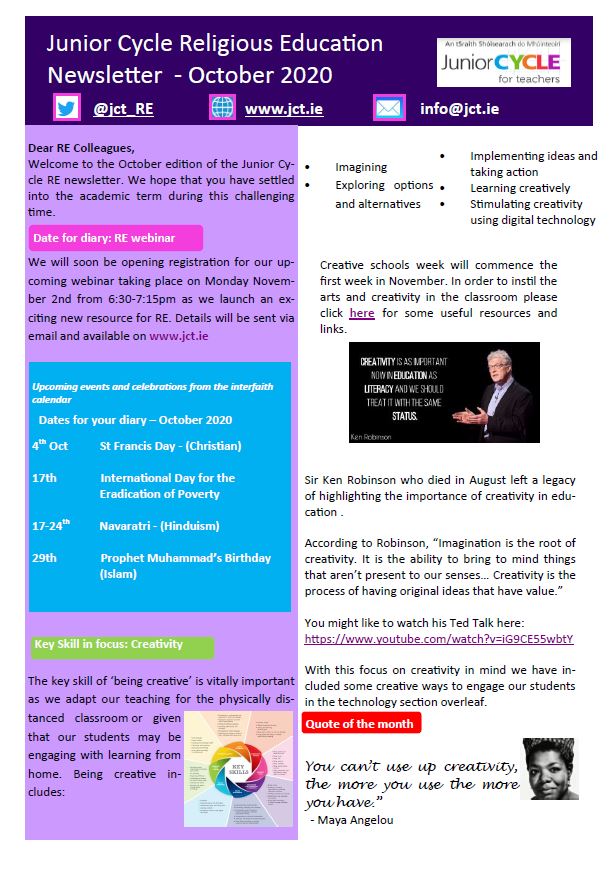 File type: PDF
Click to view or download file
Newsletter September 2020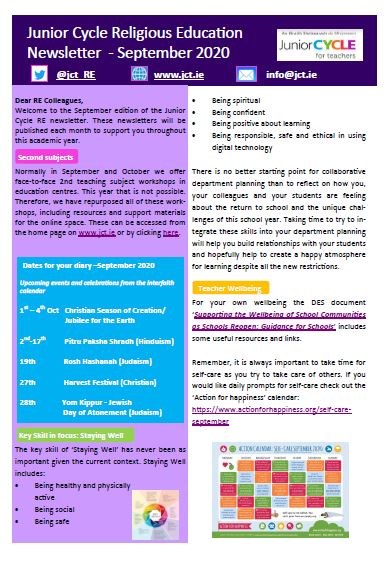 File type: PDF
Click to view or download file
Newsletter August 2019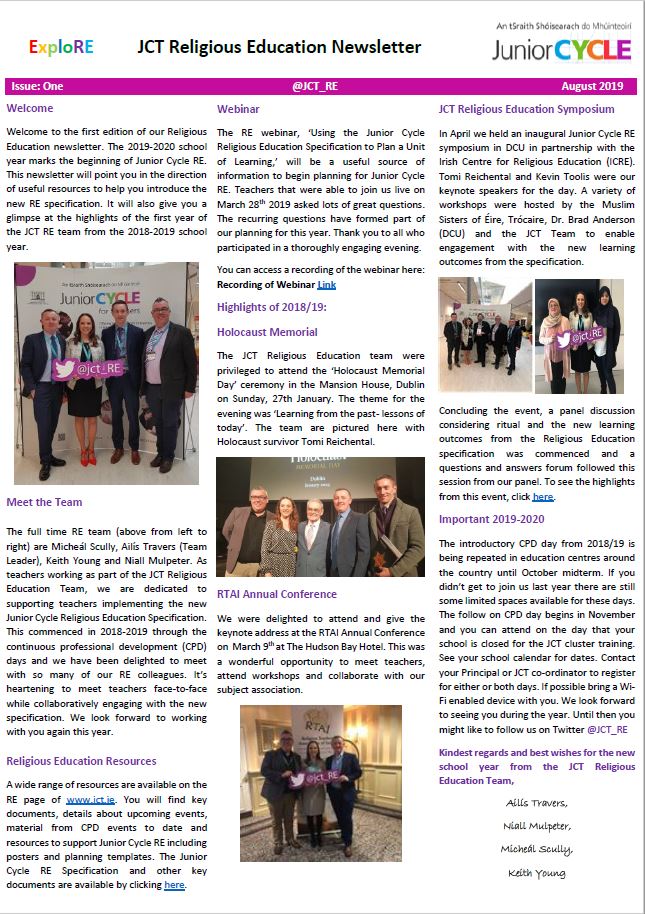 File type: PDF
Click to view or download file
Information Leaflet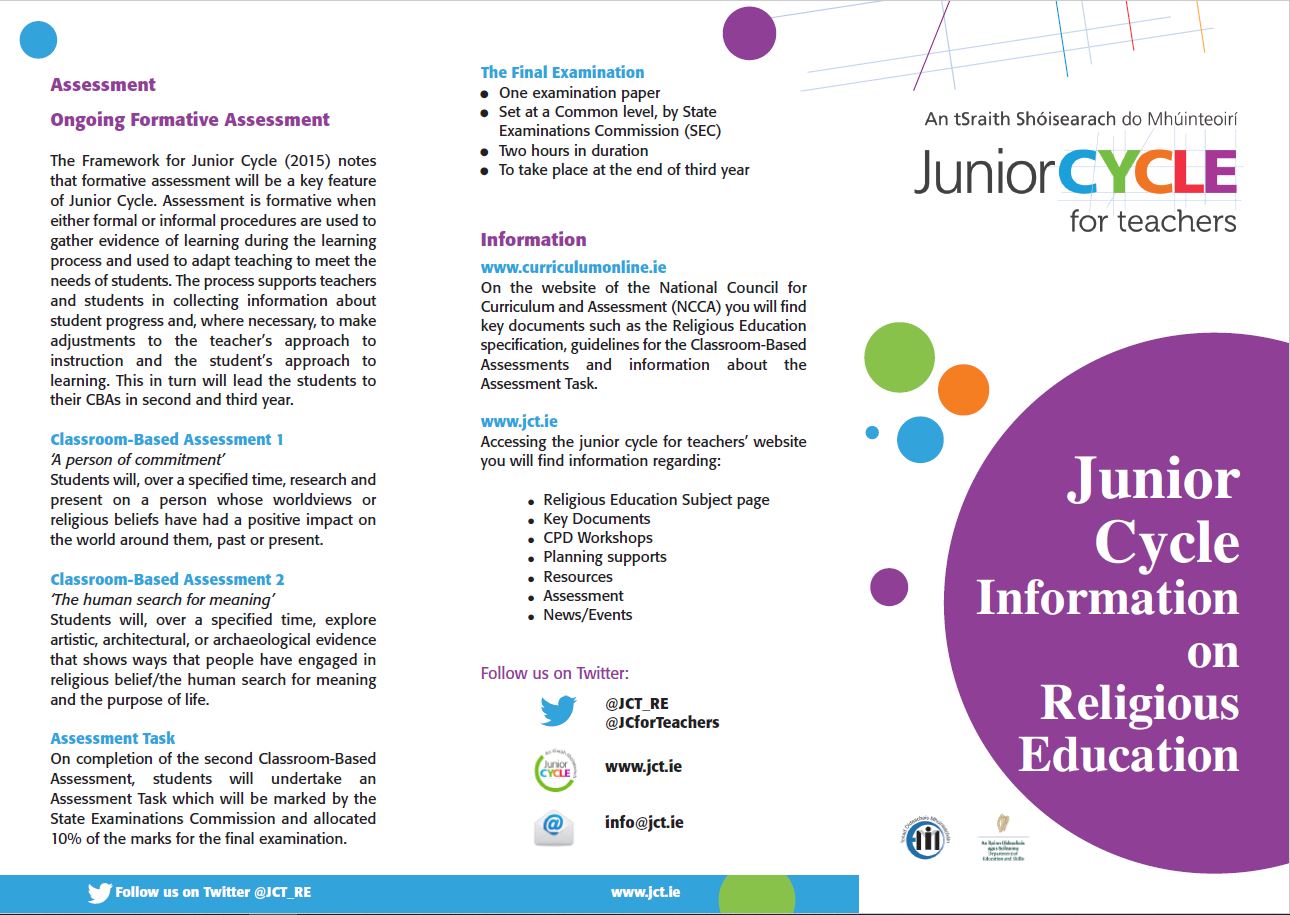 File type: PDF
Click to view or download file